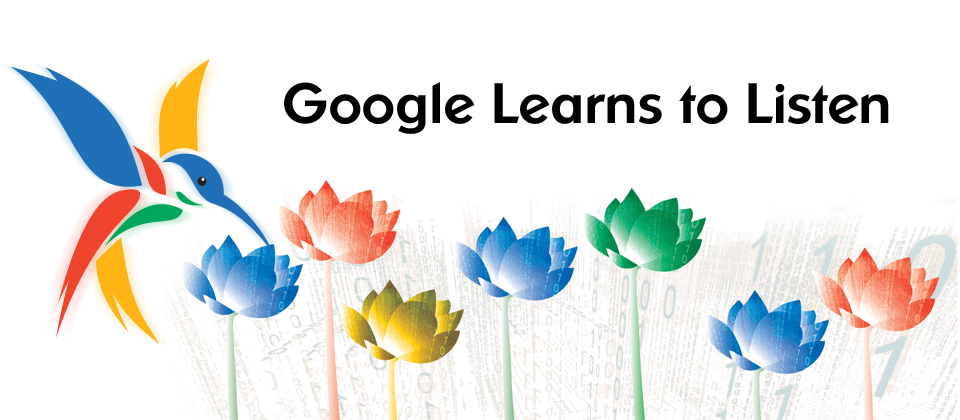 'Hummingbird' algorithm rewards high-value content worthy of shares and retweets
By: Richard Rutigliano, PriMedia, Inc.
Google is taking Internet search in a new direction that is changing the way marketers connect with prospects via the Google search engine.
The search giant recently replaced its entire search algorithm, which is the core engine that determines what Web pages are served up and in what order in response to a user's search. The new algorithm, codenamed Hummingbird, is the most complete overhaul of the Google algorithm since 2001, according to Google Senior Vice President Amit Singhal.
Hummingbird, which has been in use since late August, is designed to make Google search more effective by improving comprehension of natural speech and queries. Google has introduced voice search on its search apps for IOS, Android and Chrome, enabling users to speak their search queries by simply clicking a microphone icon on the Google search page. Hummingbird is designed to comprehend every word in a search query to make sense of it as a whole.
For example, a recent search using the query "How can I save money on home heating?" yielded 10 advice articles that were all directly related to home heating. The old Google algorithm would have yielded a less useful set of results, because it was not focused on the entirety of the phrase. Rather, it purposefully ignored words it deemed nonessential and searched for the essential "keywords" in the query.
Marketers Need to Know
This change marks a major departure for Google and signals important shifts in how fuel marketers and HVAC contractors market themselves on the Internet. Instead of focusing their Websites and other online assets exclusively on keywords as the vital factors for search performance, marketers can aim their content squarely at the human audience and trust the Google algorithm to understand their Website and not underrank it.
This development contains bad news, good news and an essential reminder for marketers.
The bad news is that any pages you produced in recent years that were stuffed with repetitive usage of essential keywords are now being pushed down in the search rankings. Google is no longer looking to answer a search query about "air conditioning" with pages that repeat "air conditioning" ad nauseum. Instead, it is now looking for pages that seem to have the most pertinent information to answer the specific query.
The good news is that you can now enhance search performance by publishing content that is crafted to be genuinely useful to Internet searchers. Google is encouraging searchers to ask straightforward questions and rewarding marketers who provide great information that gets noticed. As Google itself wrote in a recent Help document, "The more unique and compelling your content, the more likely it is to perform well in our search results."
The essential reminder is that Internet search is an evolving process that requires a marketer's continuous attention. Your site could be yielding consistent first-page results for all your key searches in February, only to slip to the second or third page – aka oblivion – in March. Marketers should run test searches regularly and use Web analytics to monitor search performance and then adjust as needed.
Google Aims Higher
With the Hummingbird algorithm and other ongoing updates, Google is looking out for Number One. Google is currently the top search engine by a large margin, and the company is working to maintain that advantage by constantly improving the Google search experience.
By focusing its search on keywords in the older algorithm, Google had trained users to search in a counterintuitive way by experimenting with different sequences of keywords until they found the sequence that yielded the result they wanted. Now, the search giant is beginning to retrain users to simply ask questions, as if they were having a conversation.
The implications for marketers are clear and, frankly, refreshing. Keyword-based search was unnatural and caused online copyrighters to abandon sound writing principles in order to write repetitively enough for the search engines to get the message. With Hummingbird in place, the best way for a company to improve search performance is to answer questions that people are really asking – in simple language.
Going forward, marketers should focus online marketing on the new essentials of great performance: strong Web presence; informative content; effective use of page titles and URLs; and strong signals in the social media sphere.
Web Presence: Given Google's new priorities, it is more important than ever for marketers to expand and strengthen their Web presence. Start with a good Website or network of sites, and then create complete listings in all the major directory and listing sites, with the most important ones being Google Places, Google+ Local, Yahoo Local, Bing Places for Business, Yelp and Merchant Circle. Take full advantage of what these sites offer: a company listing, a mapped location, hours of operation, service listings, photos and video postings, and more.
Pay special attention to your Google listings, because they fuel your search performance on the search engine that, according to Search Engine Watch, gets 67 percent of all Internet search traffic. A business can list in both Google Places and Google+ by claiming their Google Places for Business page.
Mapping your company's location in the directories is a must, because Google and the other search engines are working hard to improve local search. They will only get better at identifying search queries that merit local results, such as answering home comfort questions with answers from local home comfort companies, so you want to make sure those search engines know exactly where you are.
Informative Content: Companies that are winning in search are using informative online content as the key ingredient. They understand that Internet search has turned marketing on its head, shifting the initiative from the seller to the buyer. In the new paradigm, Internet search has empowered consumers to hunt for products and services online, so that they "discover" and vet companies rather than relying on advertising to guide their choices.
Leading companies in all sectors of the economy have gone with the flow and shifted their resources from traditional advertising to online initiatives known as inbound marketing or content marketing. This involves posting informative articles or videos online to be discovered by search engine users. Many savvy marketers use a sales model that involves "introducing" themselves as content providers, answering the questions that their prospects are asking.
Home comfort nestles very nicely into the new search paradigm, because homeowners have question after question about their home comfort and energy use: what equipment to use, what energy source to use, what heat emitters to use, when equipment should be replaced, how to reduce energy consumption, and on and on and on.
When they go searching for answers on the Internet, they can quickly spot the home comfort providers they prefer: They are the ones that are answering their questions. This is the principle behind inbound marketing and content marketing: Answer people's questions, and they will prefer you.
High quality content can be time consuming to produce, but all signs point to it being an effective and enduring asset. A home comfort Website that includes just three or four informative articles or videos on core topics with proper behind-the-scenes coding is much better optimized for search than a site with no such articles. Not only does the content attract new visitors, it is also the best driver of social media signals – another key to stellar search performance. More on this in a moment.
Page Titles, URLs and Keywords: Keywords are not the be-all and end-all that they were in the old Google algorithm, but Websites and other online content still need to be coded properly to emphasize the right words and phrases. Google recommends that Websites be coded with page titles and URLs that help guide the search engines directly to the information assets.
Social Media Signals: When evaluating Web pages, Google search relies heavily on interactions in the social media channels like Facebook, Google+ and Twitter to determine which pages are the most relevant. The search engine wants to maintain its dominance, and Google's developers have decided that social media activity around an article or video correlates with relevance.
What kind of content inspires likes and shares on Facebook and retweets on Twitter? Content that people find useful or interesting. In the social media sphere, users aspire to be influential, so there is a strong incentive to share high-value content that others are likely to appreciate. When a user finds something that impresses them, they share it because they want to be the one who passed it on. Content that makes a strong impression on people is the content that gets the viral boost that the search engine algorithms are seeking.
As such, one high-quality piece of content can have much greater value than a string of low-value Facebook posts or Tweets that garner little or no interaction. It's the posts that go a little viral that will push your company Website towards the top of the search results.
Plan of Action
As you set your priorities for this offseason, think about posting two or three articles or videos that will deliver excellent answers to questions that your prospects are likely asking. Tell them how they can really drive down their home energy costs. Talk about the difference between full-service home comfort and patchwork home comfort that may look like a bargain. Be informative and accurate first, but don't hesitate to make bold statements – you want your articles to go viral.
When you have an article that you are truly proud to publish, share it across all your channels and repost it again periodically to keep the interactions coming. Many of the best articles, such as how-to articles, have a lengthy shelf life and can continue to support your search ratings for years to come.
A great article or video can also earn your site some helpful backlinks, which are links from other Websites, preferably sites that are highly regarded by Google. Whenever you post something particularly useful or interesting, notify all the local media as well as the Twittersphere. Invite everyone to link to the article on their sites, because their backlinks make your site score better with Google.
Recent activity on the Website is also important to Google, so it pays to formulate a plan for ongoing posting, either through a blog, new articles on the Website, or both. A slow but steady flow of high-quality content will benefit you much more than a constant stream of social media chatter that doesn't actually say much.
Not every company has the expertise in-house to support the search engine marketing they need. If you would like to review your online marketing and set up a program to get your company to the top of the search results the right way, please give me a call today at 800-796-3342.
Richard Rutigliano is President of PriMedia, Inc., a full-service Advertising/Integrated Marketing Communications/New Media firm with offices in New York, Boston, and Philadelphia.